Vase – Swaledale Fossil Marble
Swaledale Fossil Marble is from Swaledale (naturally), part of the magnificent North Yorkshire countryside.  It is a mix of soft greys, off white and with a bluish tint on occasion.  It was formed at the bottom of a shallow sea that covered much of the United Kingdom back in the early Carboniferous geological period.  It is full of fossil remains of invertebrate marine creatures, most notably the flexible stems of sea lilies, otherwise known as crinoids.
When the stone is polished these fossils show up clearly.
The 350 million year old stone was used in Durham Cathedral in the 13th century and as pavements for York Minster in the 15th Century.  Now its stunning fossils can be seen in these small stem or bud vases.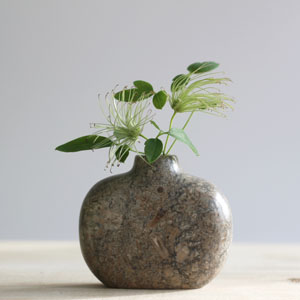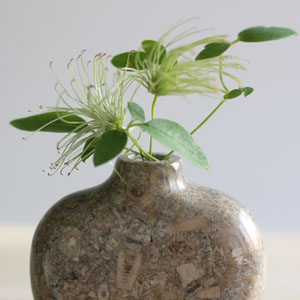 The vase is hand made in a simple design to the finest detail and polished here in my Lastingham workshop as part of The British Marble Vase Collection.  The collection celebrates the beauty of real stone and in particular the natural and exceptional colour variations of  British marbles.