Big Garden Birdwatch 2017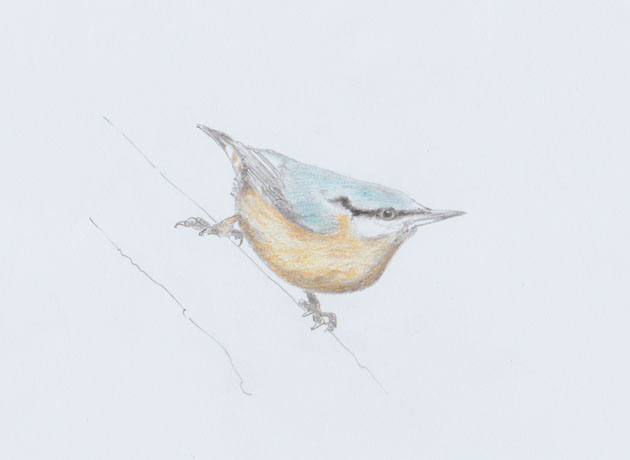 The sun came out for my birdwatch, after days of cold grey.  The bird sound is spring-like.
Spotting and recording the birds is the easy bit – I hope to sketch them as I see them during my count, which I find is quite a challenge.  Particularly the Nuthatch as it sneaks off behind a branch, or the far side of the feeder, so most sightings are beak, or tail flick.  A second Nuthatch joined me on my Big Garden Birdwatch  and I got much better views.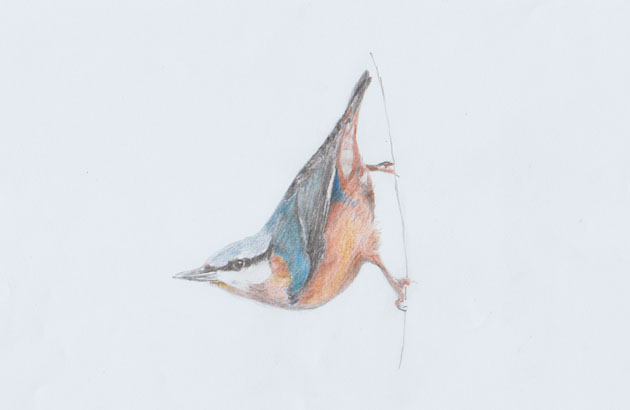 Coloured pencils were used for the drawings – usually I sketch with ordinary pencil, and prefer it for getting soft graduation of tone which gives a more three dimensional feel to my drawings I think.
A Treecreeper featured in my birds recorded, but it was much too quick for a recognisable sketch.  However, I did get a photograph, so I could draw from that at a later stage perhaps.  The idea really was to quickly draw what I saw.
What an enjoyable couple of hours and a thankyou to all the birds who made an appearance, especially this year, the Nuthatches.