A Bird in the Bombweed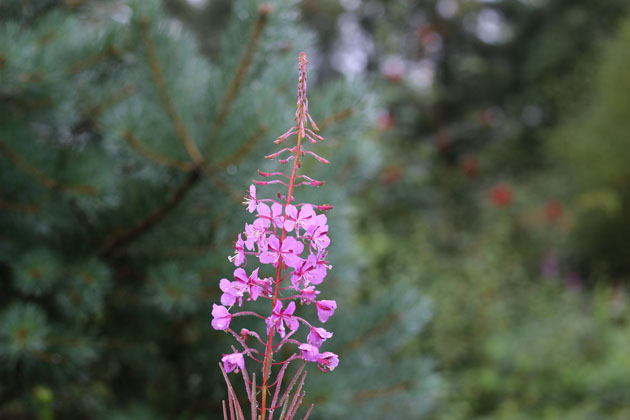 There are long stems of Rosebay Willowherb growing just now, the best colour here at the workshop by far.  Most everything else is going golden, or brown, or gone over completely.
The tall pink flower spikes of Willowherb can often be seen grouped together in bunched stands in open spaces, such as woodland clearings, roadside verges, and grassland.  A successful coloniser, the plant has grown from a scarce woodland plant to a well-known flower.  This expansion occurred as a result of two World Wars clearing vast areas of forest and burning the ground both in towns and the countryside – just the right conditions for it to thrive.  One of its common names 'Bombweed' alludes to this takeover.
It is growing especially thickly on a patch where earlier in the year I had a bonfire – the tiny, cottony 'parachute' seeds are helped in germination by the heat from fires (the plant is also commonly known as Fireweed).
For a short spell Bird enjoyed sitting among the rose-purple flowers before becoming a rather smart town bird at the Watermark Gallery, Harrogate.