Birds in my Garden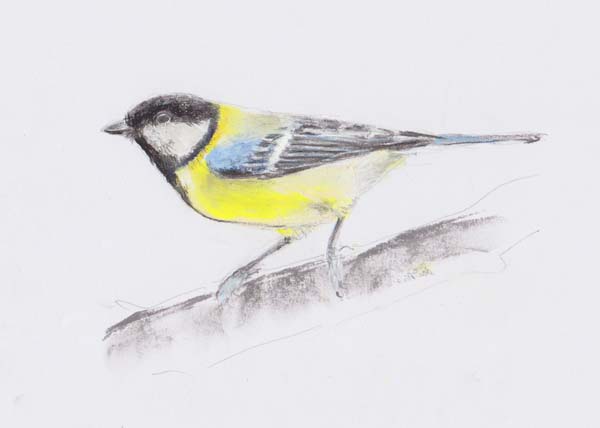 It seemed very quiet during my Big Garden Birdwatch, the Great Tit and Blue Tit were most numerous. A few of my regular visitors didn't show at all.  When making a concentrated effort to watch wildlife, I always think something incredible or unusual will occur – perhaps I will encounter something never before witnessed, or discover a new species.  Silly really.  It does make me watch with special care though, and I love that sense of alertness, and of course I do learn so much about the birds and their behaviour from this dedicated viewing.  I did manage a few sketches too, this one is a Great Tit in pastel.
My bird visitors for the Big Garden Birdwatch 2015 were:
Great Tit, Blue Tit, Robin, Cole Tit, Pheasant, Jackdaw, Wren, Wood Pigeon, Mistle Thrush, Blackbird, Magpie, Dunnock.
I was distracted some of the time by two very amorous rabbits and a mole hill which began as a few crumbles of fresh soil, and grew and grew over the hour, though I didn't see the culprit.