Cherty Bird sculpture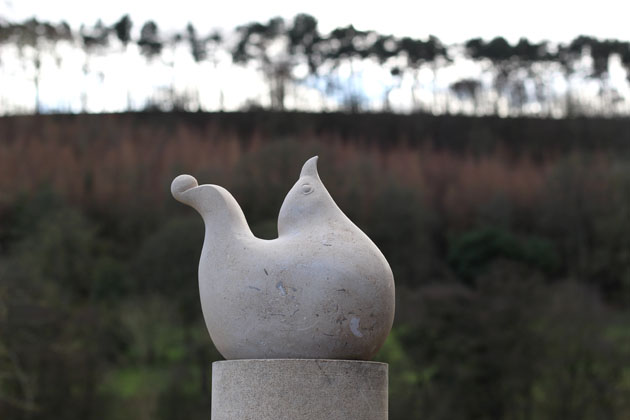 My latest sculpture of a bird carved in Portland Limestone – I managed to get a couple of pictures of it between wintry showers and the bitter wind threatening to blow me over.
Its pose, looking skyward, fitted the scene perfectly, as if it was directing a plea to the 'Bird Gods' for respite!
I've called the sculpture Cherty Bird because Portland Stone,  which is a Limestone from the Jurassic period, is cut at the quarry in different white/grey beds separated by chert beds.  Chert is a very dense, hard rock composed of quartz, usually of biological origin consisting of petrified remains and sediment from the deep ocean floor.   This particular piece of stone has chert inclusions, shell, and small fossils, which are sprinkled over the body and neck of Cherty Bird.
They can be a hazard for the sculptor, doing their best to divert the chisel (they really do resist shaping!), but lend a very lively and intriguing contrast in the stone, and character to my bird.