City Dog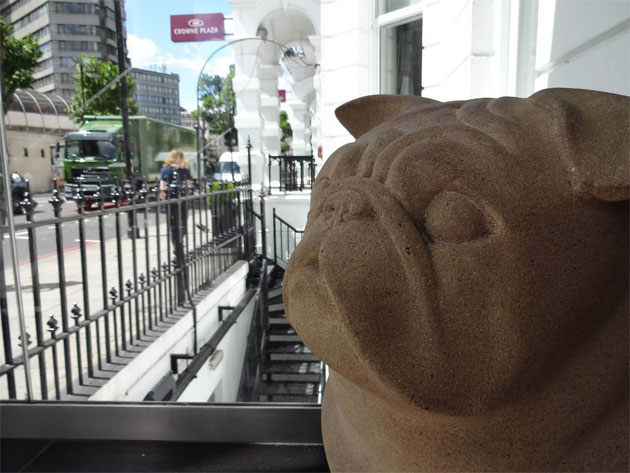 I've just come across these pictures of my dog sculpture and they reminded me of when I carved the Pug.
Some little while ago I was approached by Elegant Clutter to help with of one of their design projects.  The client had requested a carved stone dog and liked one of my dog carvings which was of a sitting, rather Aztec looking dog, very simple in shape with a tail curled on its back.  I prepared drawings and the stone was selected.
The hotel layout and design was worked according to Feng Shui principles, the Master very particular in all details.  Rather at the last moment came news that the dog would now be a Pug, and had to be a male Pug.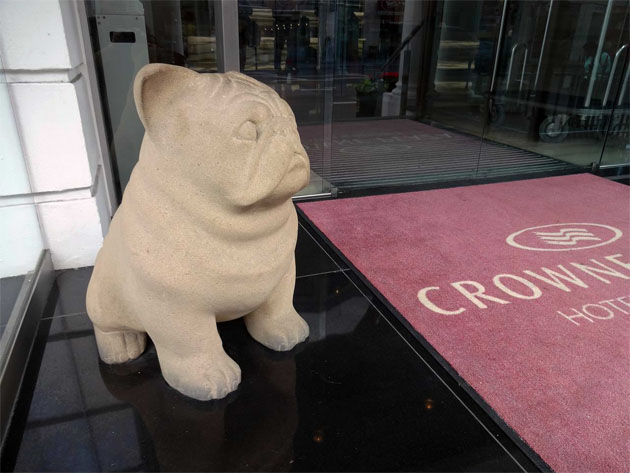 There really is only one way to ensure that a carved stone dog is seen as male, and I made sure I included this detail.
One of the Pug's ears was to stand upright and the other to flop over.   There is a glory (for a carver) in a Pug's face, all those folds of skin and the deep furrowed brow, wrinkled jowel and determined jaw.  There's purpose in those eyes!
Only hours after Pug was installed we learned that the staff had named him Elsie (after their manager) so he is female now!
Whatever he/she is certainly a city dog.  A guarding, and I hope a welcoming Pug.