Day 18 – and a little miracle!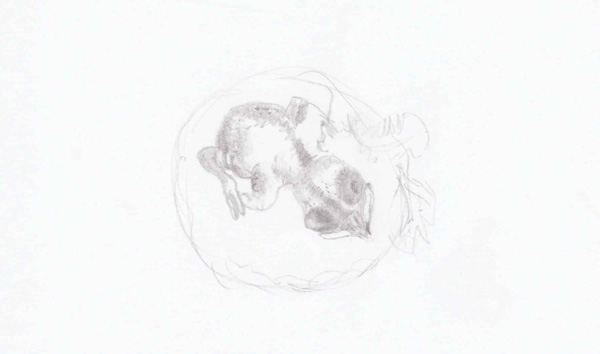 Each day has been ticked off – I counted ahead so I knew when days 14-18 were.   Day 18 is today.
On the 6th June my swallows started to sit on their eggs – 9th June was disaster day (I found a dead swallow on the nest).  Immediately another bird came and sat.  I worried that the eggs had perhaps gone cold and that nothing would come of them – so that is why I've been counting.
Swallow eggs take anything from 10-21 days (typically 14-18 days), to hatch.  So, they left it until the last minute – but new life comes!  Today I noticed that the swallow was off the nest, not sitting as usual, but I did see one standing close to the nest.  I knew that this must mean either hatchlings, or that they had abandoned the nest without result.  I couldn't resist climbing up to have a look – and there in the feathers, barely visible, but wobbling its little head, was a tiny, tiny swallow hatchling.  I quickly came away from the nest and left them to it.
It has made me so happy today, I can't stop smiling.  I definitely saw one – but originally there were four eggs, so I'm hoping it will have brothers and sisters.
I didn't have my camera with me, and didn't want to be poking the lens in the nest – so hope you don't mind the little sketch, which is my memory of what it looked like.  I was just aware of wrinkled pink transparent skin,  dark bulges for eyes and a huge white rimmed beak.  I sat in the grass this evening and watched the parents fly in and out with food – so it will be growing as we speak!
Happy, thrilling day.