Demonstration of Stone Carving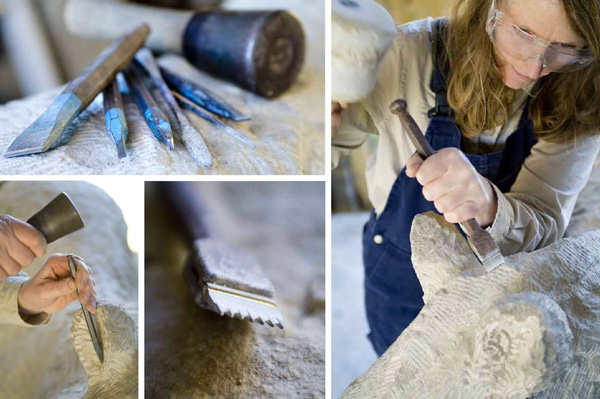 There'll be chips flying, hammer blows and quite a bit of dust – and probably aching arms too!
On Saturday 2nd August I will be demonstrating stone carving in Helmsley  as part of the town's celebrations for Yorkshire Day (1st August, 2014).  I have been invited by Helmsley Galleries to join the special event alongside Caroline Riley and David Howell and I'll be spending the day showing how a sculpture is created from a raw block of stone, through the various carving stages.
Throughout the weekend Helmsley will be alive with art, music, theatre, food and drink tastings and welly throwing!  Lots going on – as Visit Helmsley explains.
No problem here about Yorkshireness for Yorkshire Day – I can confirm that I'm Yorkshire born and bred, the stone I'll be working will be Yorkshire sandstone (the best  there is!), and the tools I'll be using are made in Yorkshire – I'm very happy to celebrate that, and proud too!
Hope to see you on the 2nd, I'll be glad of your encouragement and you can let me know how you think I'm progressing with the carving.  Helmsley is increasingly becoming an 'Art Town' with a number of galleries now open.   Local businesses have combined forces to make this a fun weekend and galleries around the town will be welcoming visitors on the 'Art Trail' – do make sure to visit the Black Swan and Feversham Arms hotels where you'll find Helmsey Galleries.