A Dragonfly and some Updates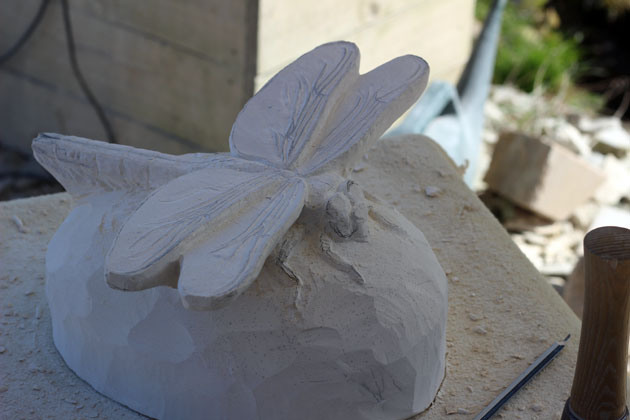 I've been carving a dragonfly – an Emperor Dragonfly just landed, and resting on a pebble.  Here I'm working on getting the legs as thin as I dare  and putting some detail into the tail, which will overhang the stone it is sitting on.
What an apt sculpture to be working on just now – the Dragonfly, in almost every part of the world, symbolises change and understanding of the deeper meaning of life.  This meaning is generally associated with transformation and as a totem it brings wisdom and change and shows adaptability, joy and lightness of being, an invitation to dive deeper into feelings and also offers a connection with nature's spirits.
I'm contemplating as I'm carving and hoping I can be adaptable enough.
One or two changes have happened here and I thought I should update you with these.
Exhibitions
My work is held at Elementum Gallery – the gallery has now closed but artists will be shown online, where work can be purchased.
Sculpture by the Lakes are closed – they have my sculpture in the Barn Gallery,  ready  and waiting for when it re-opens, or you can view sculpture on their website.
The Harrogate Spring Flower Show has been cancelled.
The Glemham Hall exhibition curated by Art for Cure won't now be in the Hall gardens, but will go ahead online – with a special launch on Thursday, 7th May.
The Watermark Gallery in Harrogate is closed, but they are refreshing their website to take their exhibitions and artists online, so you can view, browse and buy.
Stone Supplies
I have some stone in stock, which hopefully will keep me going.  However the quarries are now closed which means that orders for some specially made pieces will have a much extended lead time.
I'm looking after my chisels especially well too, as tool suppliers have also closed.
Sculpture
Otherwise everything is as normal!
By which I mean I continue working, completing commissions, carving and turning stone into sculpture.  I'm updating my website regularly and my brochure which you can download to see pieces currently available, and I'm working on new pieces for my shop.
My spring newsletter is due out shortly too – so if you'd like to receive updates from me direct to your inbox, and haven't signed up yet, its really simple, just a couple of clicks away – Newsletter
More Dragonfly
And to bring you a bit more of the Dragonfly, we probably all need a bit of its enchantment – the dragonfly is characterised by amazing flight patterns as it appears to be able to change direction swiftly, gliding through the air with no apparent effort.  Its lightness inspires those who are visited by it to use their ability to be flexible and highly adaptable in any situation.
In Mayan culture the dragonfly is the emblematic animal of the goddess of creativity, Ix Chel.  It is said that the dragonfly's wings and magical songs revived her after she almost  got killed.