They hung the heads of traitors here!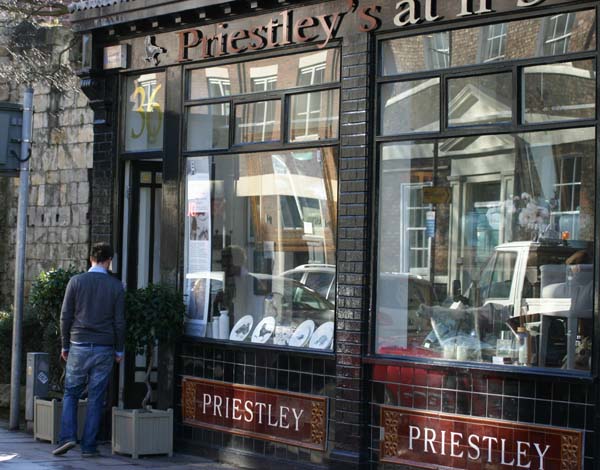 Not recently though.   It is difficult to imagine it, standing in front of the beautifully and stylishly decorated frontage of Priestley's at No. 36, Bootham.  Before entering through the immaculate  gloss paintwork and shine of period door furniture, I glance to my left.
There, towering, is the magnificent 11th century archway of Bootham Bar.  This Gate to York's City walls looks out North-West toward the road I'm visiting, called Bootham. There has been a gateway here for nearly 2000 years – Bootham Bar is on the site of one of the four main gatehouses, or 'bars' to the Roman Fortress.  The existing structure is not Roman, the archway itself dating from the 11th century and the rest of the structure is largely from the 14th century.  In 1501 a door knocker was installed as Scots were required to knock first and seek permission from the Lord Mayor to enter the city.  The Bars restricted traffic in medieval times and were used to extract tolls as well as being defensive positions in times of war.
Bootham Bar is mostly built from gritstone and magnesium limestone from the surrounding area.  It is topped by three statues carved in Portland Stone which were added in 1894 to replace the rather weathered medieval originals.  (These were carved by G. W. Milburn who had a workshop that was adjoining, right next door).  The statues depict a  stone mason holding a model of the Bar, 14th Century Mayor Nicholas Langton, and a Knight carrying a sword and shield.  Beneath them would have been displayed the heads of traitors as a warning to others.
If you look out of the small arched windows of Bootham Bar, you can see York Minster itself, and looking out the other side, up Bootham, going out of the city, along where the main Roman road from the North was.  As I push open the door of Priestley's at No. 36, Bootham, I can hear the crunch of  Roman soldiers' feet marching past.
I'm visiting the Gallery at Priestley's with artists Richard and Janet Burdon as we are exhibiting together here during April, and wanted to make plans for the show.  We learn that this is a fabulous venue – The White Room Gallery is full of character, a small, welcoming space,  easy to find and get to with parking very close.  We chatted, measured, arranged, designed and our ideas began to take shape.
The name Bootham is recognized from records in the 12th century as "barram de Bootham" meaning bar at the booths. This probably refers to the fact St Mary's Abbey had the right to hold a weekly market here.  Additionally as it is very close to York Minster, would have been an easy place for people to find when they required market goods.  This seems quite apt really, as I will be bringing my sculpture goods to market at Bootham.
Can't you just imagine those statues, and the stones of Bootham Bar itself, looking down on me exhibiting so close with my stone sculpture,  some pieces of which are carved in the very same Portland stone, and others in the same local magnesium limestone.
Exhibition Dates:  2nd April – 30th April, 2014
Priestley's at No.36
Bootham
York
YO30 7BW
Tel:  01904 345130
On visiting the gallery, you won't have to knock to gain entry, or be in fear of decapitation!