Insects on glass and spotty dogs
During my time exploring the Hirsel after delivering pieces to the White Fox Gallery, I popped into the units within the Hirsel Craft Centre.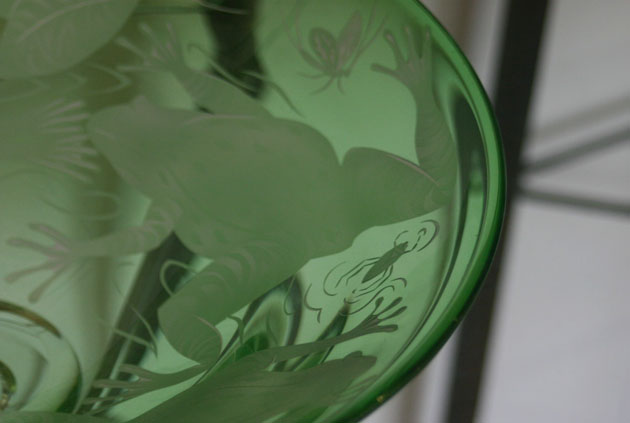 I was made most welcome and had a lovely chat with Julia –  of Julia Linstead Glass.  Her work is beautiful and I particularly liked her way of incorporating insects into the scenes decorated onto her lead crystal glass bowls, plates and vases.   Her designs are often drawn directly from nature, especially the native flora and fauna of the Scottish Borders and Northumberland.   She talks so beautifully and enthusiastically about her work and we discussed designs on stone too – and she generously gave advice and help – there are processes we have in common.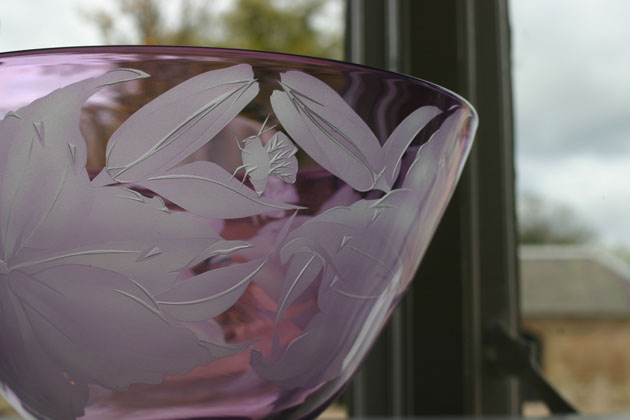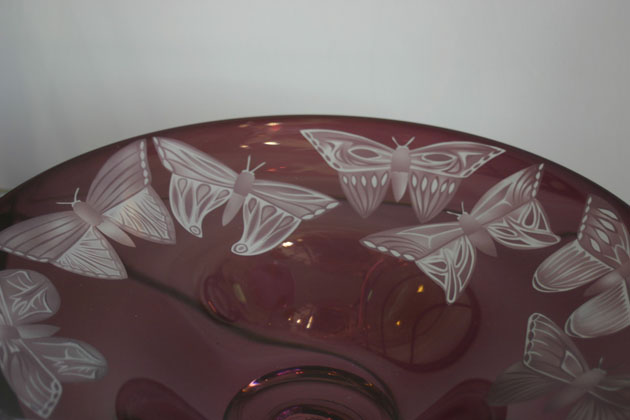 I'll just show you a little purchase I made at Abbey Ceramics – original pottery and fine art – another of the workshops at the centre.  I came home with Spotty Dog as I just couldn't resist him.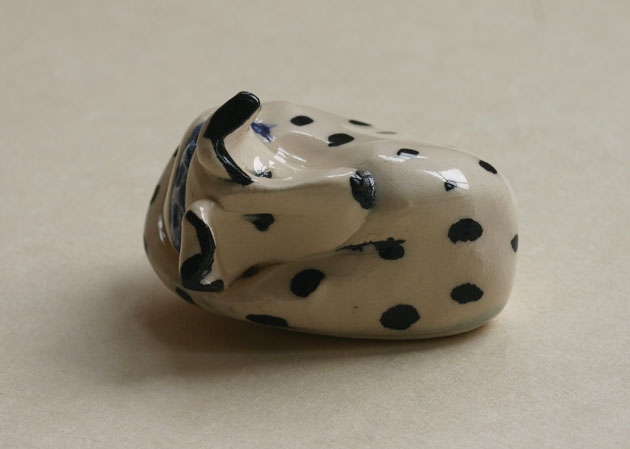 Brunnell make gorgeous leather bags and accessories, and there are a number of other workshops selling a wide range of high quality, locally produced arts and crafts and there's also a traditional Cottage Tearoom which serves a variety of delicious cakes, scones, lunches and teas.
I also visited the Coldstream Museum, which is lovely and they have some beautifully carved old stones, which was an added bonus for me, in addition to the permanent displays relating to the Coldstream Guards and the town of Coldstream.  There was an exhibition of paintings in their Courtyard Gallery from The Coldstream Gallery, so I visited there after following the Coldstream Town Trail (the museum gave me a little leaflet which took me on a fascinating tour).
Looking forward to going back at the end of May when my exhibition ends – and Spotty Dog may get a friend.