Maltese quarry message
When I saw the M&G Garden, winner of Best Show Garden at this year's RHS Chelsea Flower Show it made me feel at home, all that stone and feeling as though I was at the quarry.  The designer, James Basson has created the dry, dusty, stony feel very well, with the planting looking to be 'just clinging on' in the gravel, between crevices, connecting the blocks.  I find it very beautiful.  And it reminds me of my own workshop with blocks of stone waiting in weeds, taken over by nature.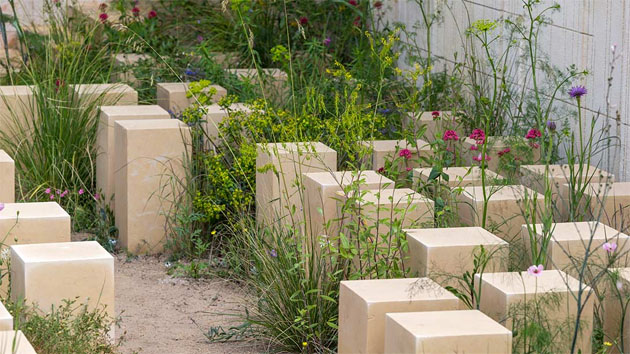 The garden was inspired by an abandoned Maltese quarry, (I've carved Maltese Limestone here) and features monumental blocks of limestone planted with grasses, evergreens, perennials and ground cover unique to the arid Mediterranean island.  The plot is divided into areas, each with its own ecology, from shrubland through a landscape of low growing vegetation to cliff top.  The message behind the designer's creation is that humans need to take action to preserve the fragile environment of our planet.  Sustainable water disposal, recycling and composting:  all are vital if Malta is to save its distinct and delicate landscapes.
Vital for us all if we wish to save our environment!
Here's my stone garden at the workshop.