Murder in the Cathedral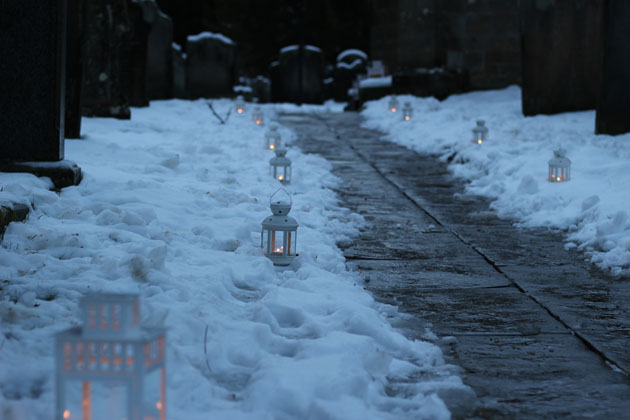 This evening I stepped out to the 'theatre' – a lantern lit pathway led to  Murder in the Cathedral, a play in two parts.  Part One – The scene is the Archbishop's Hall, December 2nd 1170.  Part Two – Starts in the Archbishop's Hall and ends in the Cathedral on December 29th, 1170.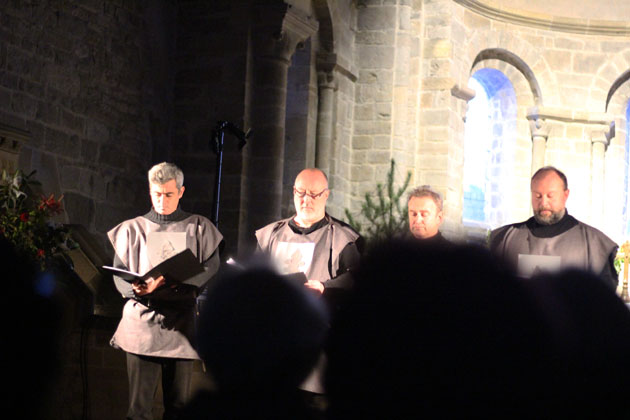 The theatre was in fact Lastingham Church, a fitting location for the dramatic performance.  This theatrical work is by T S Elliot who accepted an invitation to write a play for the Canterbury Festival in June 1935 and chose for his subject matter the martyrdom of the most famous of English saints, Thomas Becket, Archbishop of Canterbury between 1162 and 1170, when he was brutally murdered in his own Cathedral Church on 29th December.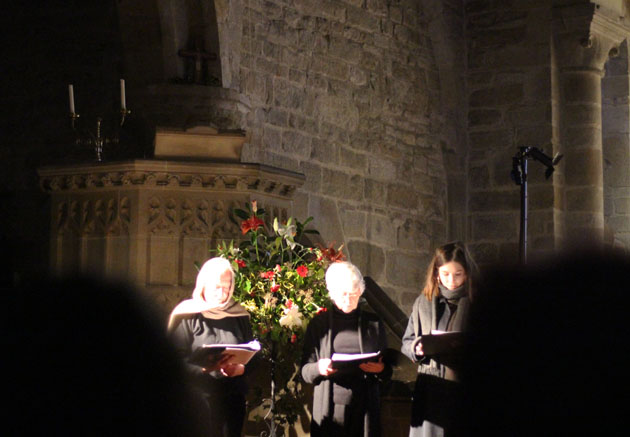 Eliot drew on eye witness accounts given at the time, treating their evidence faithfully, but selectively, creating a clean, sparse portrayal of events, artfully written.
The play for the main was delivered in a small area in front of the stained glass windows and domed ceiling, at times the voices coming out of the darkness at the back of the church, or from behind a pillar.  For one section a conversation, between Becket and his Priests, saw only Becket on 'stage' with the priest voices rising from the crypt beneath the church.  Most effective.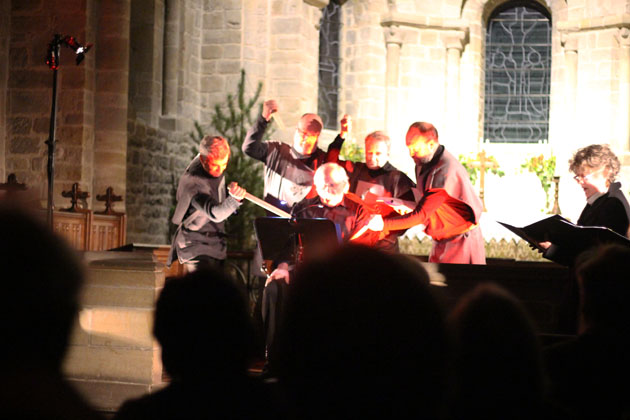 It took me a time to adjust to the style of the play, and to tune in to the language and pace.  By the second half I was imagining myself in 1170 and getting a feel of what life must have been like, carried by the players all the way to the brutal stabbing which was the conclusion.  It happened in rising tension, the lighting evocative, the act echoed and caught in red and shadow on the surrounding stone wall.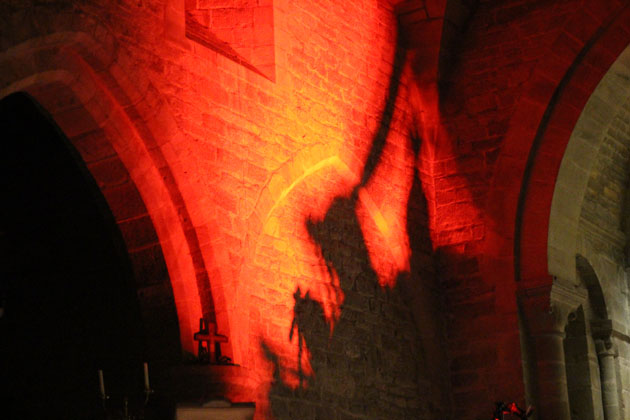 I've come away filled with visions and thoughts, and am struck by just how poised, calm and prepared Becket was in the face of his assassins.  Thankyou all – I enjoyed it very much.
Murder in the Cathedral
CHARACTERS
Thomas Becket, Archbishop of Canterbury – David Powley
Knights/Tempters – Andrew Brear, David Moses, Tom Tyson, Simon Waley
Priests – Andrew Carter, Rupert Waley, Josh Waley
Messenger – Emma Craig
Chorus of the Women of Canterbury – Jenny Brear, Marie Brear, Tanya Grundmann, Alice O'Neill, Charlotte O'Neill, Clarissa Napier, Cal Stocksbridge