Naturally Inclined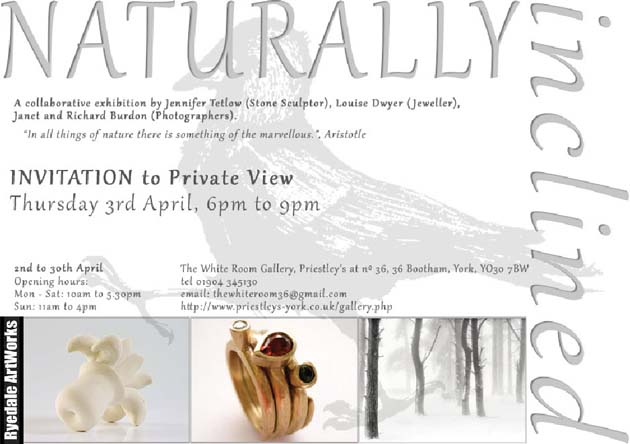 This is your invitation to come to the preview of our exhibition, which we've called Naturally Inclined at The White Room, Priestley's at No. 36, Bootham, York.
Everyone will be warmly welcomed by us all from 6 pm at the gallery, through until 9 pm.  Meet the team at The White Room who have worked really hard to get the exhibition looking its best, enjoy drinks and nibbles – whilst (this is the best bit), seeing sculpture by me, jewellery by Louise Dwyer and photography by Richard and Janet Burdon.  (Can't wait to show you my new work!)
I hope you like the invitation, it is  a big thanks to Janet, who has put it together with wizardry and her clever artistic eye.
Exhibition runs from the 2nd – 30th April, 2014.
I hope you can come – it would be lovely to see you on Thursday, 3rd April – 6 pm onwards.