Pumpkins and Butterflies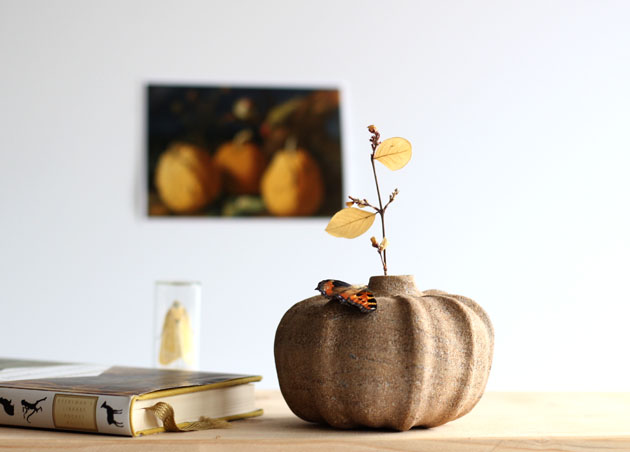 What an inspiring time of year for shapes – the plant and fruit forms of Autumn  are exciting.  The season for Pumpkins and seed heads.
Throughout history it seems artists have been inspired by the abundance of apples, pears, pumpkins, squash, corn and chestnuts – all so visually attractive.  I'm reminded of the Autumn food still-life paintings – Cezanne, The Plate of Apples, and an early Italian painting at one time attributed to Caravaggio (now thought to be by a follower in his style) Still Life with Fruit on a Stone Ledge – bursting with figs, pomegranate, pumpkins and gourds.  Yet another – Still Life with Pumpkins and Cucumbers (1734) by Stefan Michal-Voros Izbighy – which contains three ripe yellow pumpkins, a thistle type plant, the mentioned cucumbers, two Green Woodpeckers feasting on the fare, and delightfully in the front left corner, a tiny frog.
I love to discover the details in these paintings, and searching for them – it may be a water drop on a leaf, a spider, a butterfly, snail or caterpillar – always a joy to discover.
At the moment my apple tree is attracting wasps in numbers, and butterflies too.
I'm seeing so many lovely stems to collect and display (the Meadowsweet heads are magnificent!) – here is a tiny yellowed leaf  I couldn't resist, in a Pumpkin Vase carved in seasonally hued sandstone.
Shop Pumpkin Vase