RSPB Big Garden Birdwatch 2019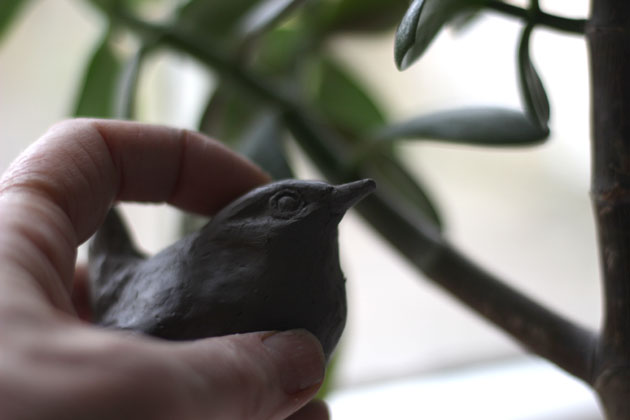 In previous years I've sketched the birds I've seen during the Big Garden Birdwatch survey.  This time I thought I'd try and model them in clay instead, sculpt them directly during the hour watch.  It is a wonderful challenge, requiring me to work very quickly, where normally I would be slow and meticulous to get a likeness.  It is a frenzy of pushing and squeezing the clay in a mad hurry before the bird disappears.  There are a few moments after it has gone, when the image is held in the mind and more clay shaping can be done – but then that too disappears and I wait poised, willing the bird to appear again.
I started with a Siskin, a pair came to the feeder and they're such pretty birds – but shy and are bossed away by other birds.  The only thing I managed was a slim shape and tail with rounded fork, and a vaguely finch like beak.
A wren was ever present and became my 'bird of the watch' this year and I sculpted one or two during the hour.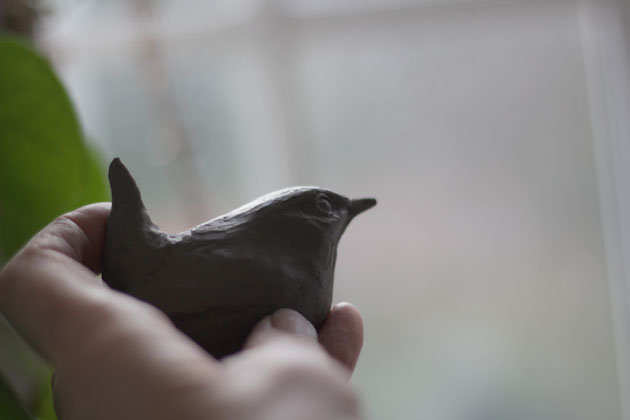 At one stage a huge gathering of Jackdaws rose in the sky, so full of Jackdaw screams and squabbles and barks, and went around, up, down and back, in a dizzy moving whole – seeming to enjoy the wind and the rally, chasing and somersaulting.
Among those counted were Blackbird, Robin, Dunnock, Pheasant, Magpie, Wagtail, Sparrow, Partridge and Pigeon, and I saw Fieldfares fly over and heard Buzzard.