Just scratching the surface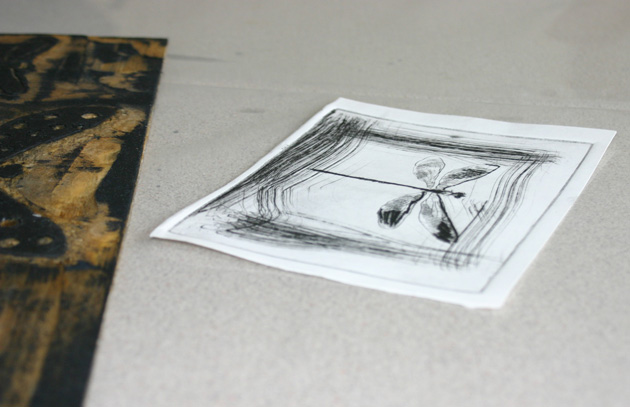 On Wednesday morning I had a bit of a dash over to Thirsk to Rural Arts where I had booked myself onto a Drypoint printmaking course tutored by Andy Dalton.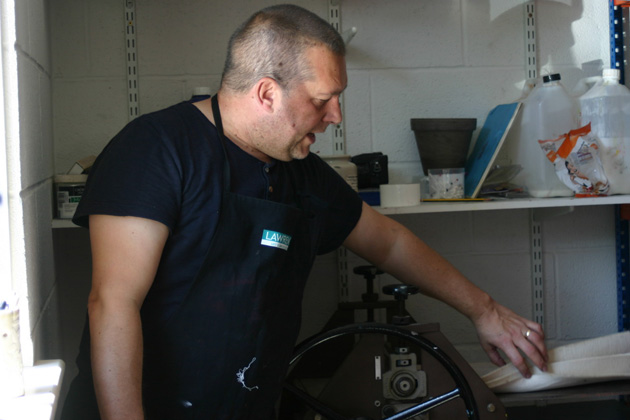 The drypoint process – a printmaking technique in which an image is incised into a plate with a hard-pointed 'needle' of sharp metal – was explained.  An etching press is required for this intaglio (the word comes from mid 17th century Italian, from intagliare meaning to 'engrave') printmaking, because the ink lies in the furrows created by the incisions and pressure is needed to force the paper to pick up this ink.  The paper is dampened to help the process.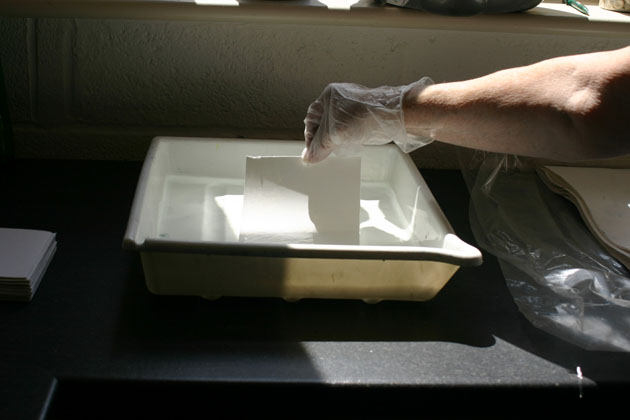 We were shown how to ink up our drypoint plates (we used acrylic sheet) and how do the 'kiss test' to check if the paper was exactly the right amount of damp!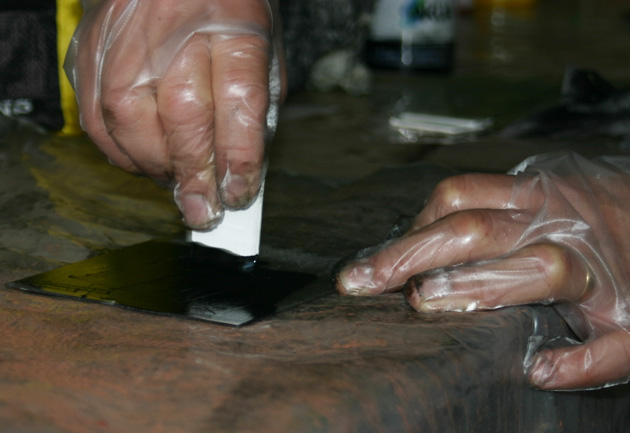 After that, it was a matter of getting to use the tools and we were initially encouraged just to make marks and learn about the effects achieved by different points and implements (the use of a 6″ nail and sandpaper were demonstrated).  I began rather tentatively, and thought best to number my lines of incised marks, so that afterwards I could remember what effect came from what tool.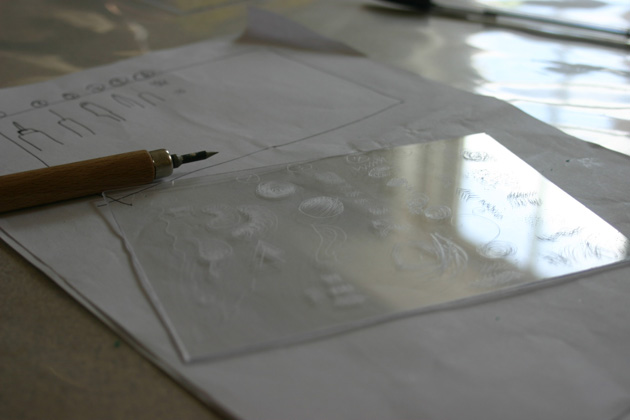 Once through the press all was revealed.  I completely forgot that I had to reverse my numbers so that they came out the right way on the print.  Anyway, that aside, it was a good start.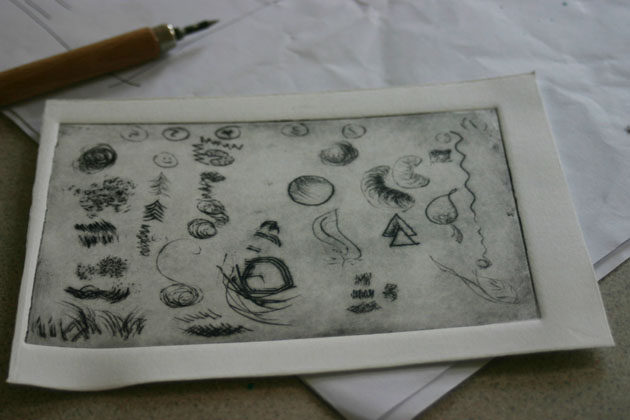 Looking at my print hanging to dry, I realised that I needed to pay more attention to inking up process – it looks very grey because there is still ink on the unscratched area of the plate.  On to the next print.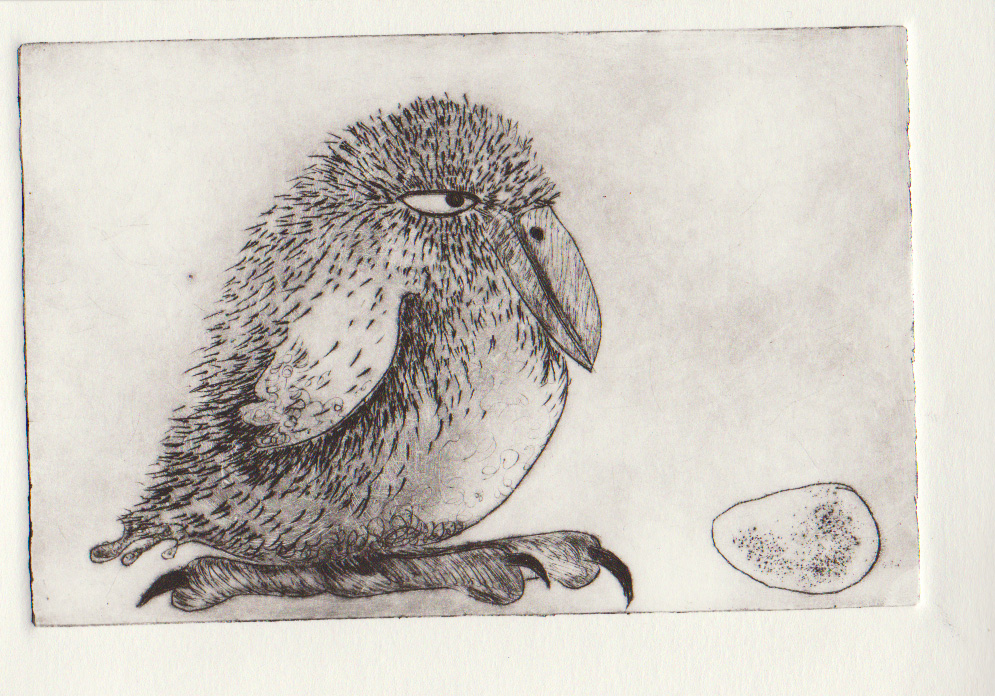 Andy was a very good tutor, giving guidance where needed and encouraged me to be more spontaneous and free with my engraving, a bit more ambitious and experimental perhaps.  I knew exactly what he meant, but actually I found it rather difficult and a raft of doubt and insecurity sailed my way.  It does when you're trying new things and you're unsure of the outcome, but I tried to follow his suggestion and example.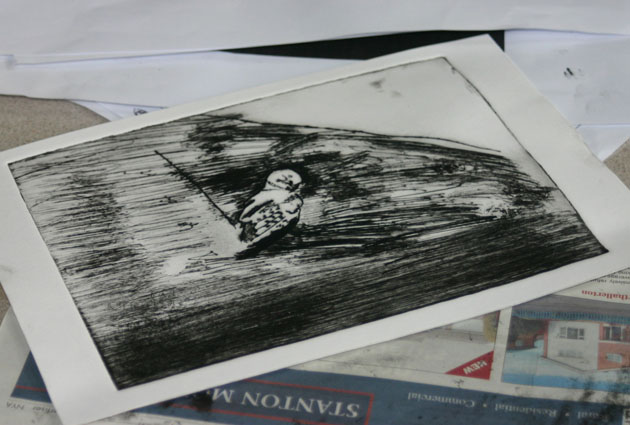 It felt rather exciting (revealing too) and I learned a lot from this print.  Dry point prints give a very specific look from the scratched drawing, which can be delicate or determined, but the ink also catches in the burrs thrown up when inscribing with the sharp metal, and this produces a lovely velvety look to the lines.  I enjoyed my day immensely.