The Corncrake by Frank Rennie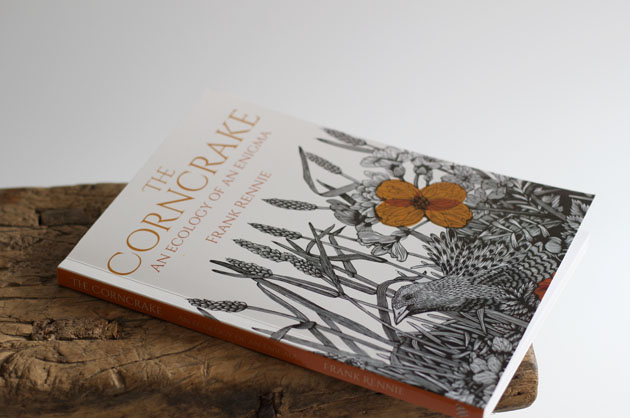 This book – The Corncrake – An Ecology of an Enigma by Frank Rennie has come to the top of my 'to read' book pile.
I wanted to know more about this bird, having sculpted a pair of Corncrakes, and how lucky I am that Whittles Publishing launched The Corncrake this year.  Frank Rennie is Professor of Sustainable Rural Development at the University of the Highlands and Islands, based in the Outer Hebrides.  I would love to go there and meet him – first I'm learning from his comprehensively researched account.
What a beautiful cover!  The stunning image on the front, and wrapping round the back is by Alice Macmillan from one of her lino-cut prints.
Corncrake numbers are in decline and we're in danger of losing this bird all-together – now as I see the huge tractors and machinery cutting the meadows all around, I wonder about my wish to see them here in North Yorkshire and whether it will be possible.
I'm reading your words Frank Rennie, so I can do something to help.
My sculpture Corncrake in the Meadow how lovely it would be if it was a real bird.  I'm imagining it.