Winter Sculpture
It was lovely listening to Andy Goldsworthy on Countryfile  talking about sculpting in winter time and that he relishes the snow and ice.  For me the colder days mostly just bring the challenge of keeping warm, though invariably the thought of working with cold stone and chisels is  much worse than in reality.  He describes an intensity that the winter conditions bring – not just the cold, but also the elusiveness and unpredictability of the British weather – that provokes an intense response and creative time.  I'm trying to think this way as I haul stone out onto the frozen ground.
Partly the difference is that Andy Goldsworthy works with the land as a whole, not just stone – 'but with the flesh of nature, not just the bones', as he puts it.   A lovely way to think.  Certainly his snow and ice work is very beautiful, extraordinarily skillfully made, and inspiring.
The very day after watching him at winter work, we are given the perfect opportunity to practice ourselves, with deep frosts and plenty of ice.   So I attempted a bit of winter sculpture myself.   I tried 'spit welding'* and sucking ice to help stick it together, but quickly found I did not have the aptitude (and lost the will to continue to practice!) – so used the ice on the goose buckets and my little beck to sculpt with.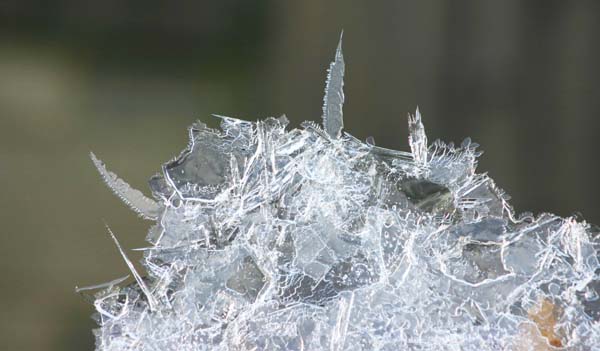 A lovely accident happened after I dropped an ice circle and it landed on leaves and grass which had been thawed by the sun.  When I picked up the ice roundel it had a beautiful leaf imprint, veins and all, and spiky grass stem indents.  While thinking about what to do with my ice leaf miracle, its crispness dripped away, every second changing, melting and deforming.  Then lost forever.  I am reminded why stone, solid, durable stone, is the material I like sculpting with – cold or otherwise!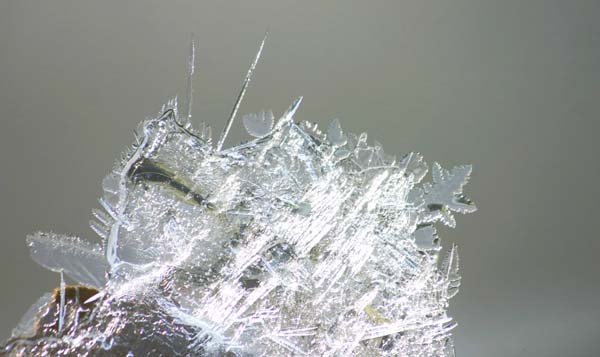 * spit welding – a process where two pieces of ice are held together, spat on, the spit freezes and holds the two together (best practiced when no-one else is around and whilst wearing a bib!)