In the Workshop today – a Stare of Owls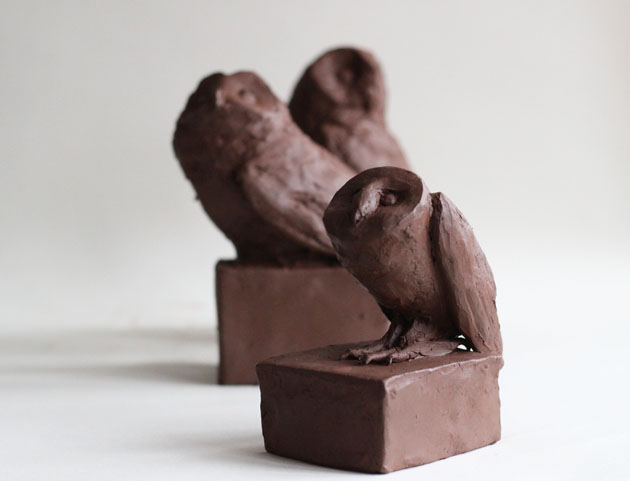 The collective name most often used for owls is a Parliament – but I discovered there are many others, less well known, like Stare, what about Hooting, or Looming.  They seem to make more sense to me.  A Stooping, or Diss are suitably descriptive as well, or there's a Wisdom of Owls.
Anyway I'm working on all these characteristics in my owl maquettes, modelled in clay as part of my preparation for an owl sculpture in stone.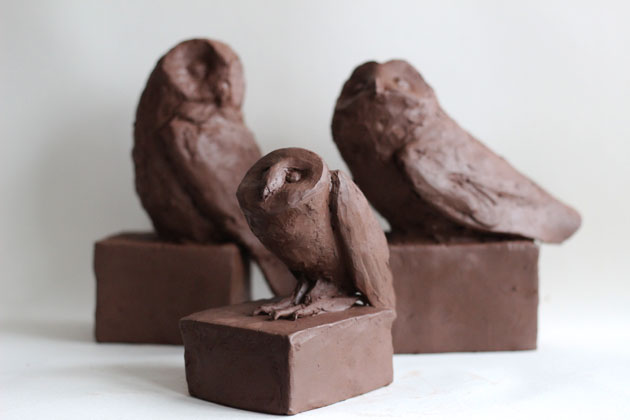 There's a Barn Owl here (rather stooped), a Tawny Owl in a very typical pose, and a Tawny (also a bit stooped looking up into the sky).  Today I'm wanting to get all the clay models finished, there are another couple of poses for both the Barn Owl and Tawny which are to complete.  There's also a rebellious owl forming, shaped of many owls and perhaps from a different time,  a 'ule' or 'owle', at the moment looking quite cross, but that may change.
The old English spelling 'owle'  has shortened over time to owl.  Various early written records have variations on this spelling, including 'uwile', 'oule', 'owell', 'hoole', and 'howyell'.  All good names for my renegade.