Carved Stones along the River Aire
Earlier in the year I worked with Arup, (an independent firm of designers, engineers, architects, planners, consultants and technical specialists in the built environment), to create a memorial walk along the River Aire in Leeds.
They had seen a stone I'd carved previously and thought that something similar, scaled up, would suit the project.  Along an 800 metre stretch of the river there would be a stone marker every 100 metres, nine in total, each carved with a vignette depicting various wildlife found in and around the river.
Firstly the round Yorkshire sandstone columns were made, and the tops chamfered so that a plaque could be fixed on each one.  The carvings were inset into hollowed circles on the front of each stone column.  The wildlife species chosen for the carvings were Grey Heron, Salmon, Fox, Otter, Red Admiral butterfly, Common Pipistrelle bat, Banded Demoiselle damselfly, Cormorant and Kingfisher.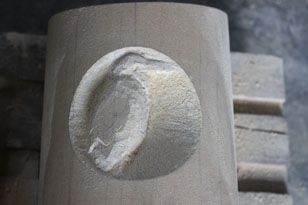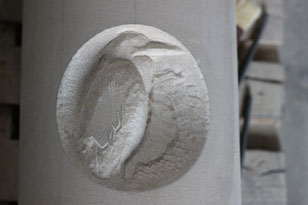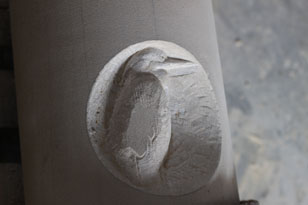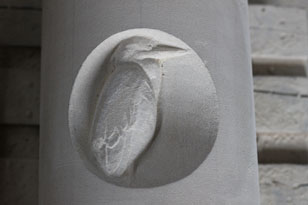 I've loved carving these roundels, with the creature seeming to emerge from inside the column and look out on the world, or resting there protected by the little hollow.  There was a real significance and poignancy too, in each of the stone columns a little bit of Ben, and a gift in his memory to all those who use and enjoy the walkway.
All the completed stones are now in place along the river bank, you can see them here,  and look very much at home.
Huge thanks to the Arup team in Leeds who have been lovely to work with and for help with a seamless installation (and for explaining all about the Flood Alleviation work at the site and what a moveable weir is!) – it has been a great pleasure.
Memorial Walk along the River Aire in Leeds