Displaying sculpture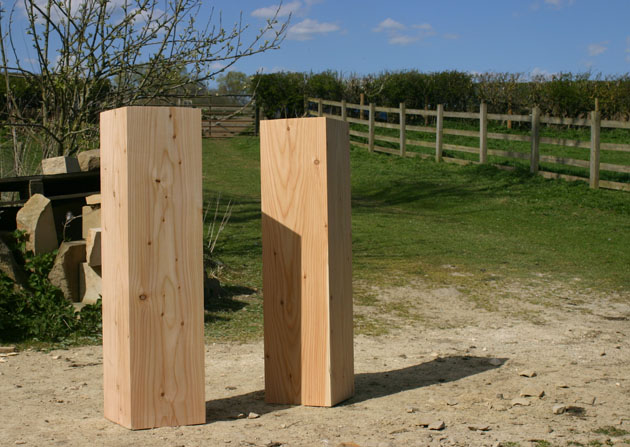 The difference between good and bad display of a work of art may be only a matter of a few inches in the height of the plinth or the positioning of the lights, but it will be crucial to our appreciation of the object in question.   This is taken from an article by James Fenton on how to display sculpture.
I'm thinking about this quite a lot just now as Open Studios approaches and I am planning where pieces will be placed and how.  I admit to finding the display of work quite complicated and often something which I thought would look good, just doesn't.  If you've seen sculpture beautifully displayed, or have ideas of what might work well, please do share!
As so many of my carvings will eventually be placed in gardens, I want to show some of them outside. I've made lots of white box-like plinths for display over the years, which are great, but won't withstand rain or being outside.  I've tried stone plinths, but they're really heavy to move around, and I've never been absolutely happy with them.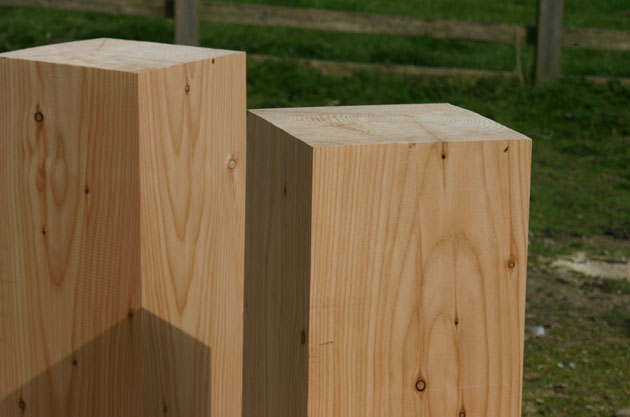 Yesterday I picked up two beautiful pieces of Larch, which is known and valued for its tough, durable qualities.   This is wood grown in North Yorkshire and worked by a local sawmill.  I love the way Larch greys as it weathers, and my idea is to have these outside all the time,  mellowing to create a natural and strong base.
They look so lovely that I've put them inside!  I'm going to experiment with different stones to see which look best against wood and then decide where to place them.  There aren't many flat spots at the workshop, so I'll have to dig in a bit – but this will help making them more stable anyway.
The view from my sheds looked stunning today, do I place the plinths with this as the backdrop?  I will have carried these timbers around quite a lot by the time they're finally placed.