Letters cut in stone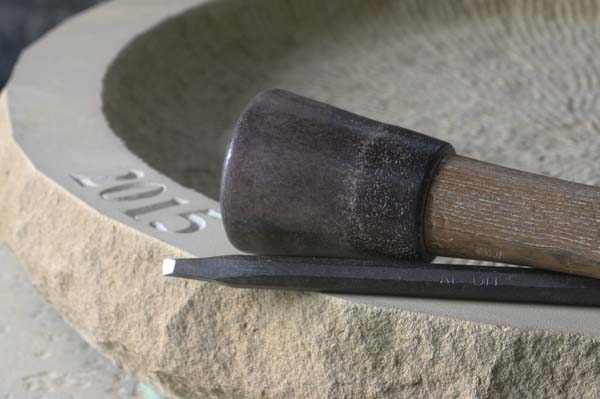 A call came through last week from a customer who asked if I could add some lettering to the Birdbath they had ordered.  I love to be part of making something special, personal and individual in this way, so was glad to agree.  I think it makes a lovely marker for a point in time and we discussed what the letters would be and how to place them.  I was also asked how the lettering would be done – by machine?
When the birdbath was collected we had a little tour of my workshop and I explained how I cut the letters by hand with a small mallet and sharp chisels.  Basically, I first cut a fairly rough incised line with the tip of the chisel blade down the center of the letter.  This small trough then acts as a start for the V-section cut which is made by the chisel angled from the surface of the stone.  Care with the edges and corners is required, to achieve a crisp, neat finish, and at times just the lightest feather touch is needed.
A machine would be quicker I'm sure  – but I enjoy the slow steady chiseling and striving to improve my craftsmanship to give a fineness and delicacy to the cutting, despite the relatively rough texture of the stone, and make incisions worthy of a gaze rather than glance.