Otters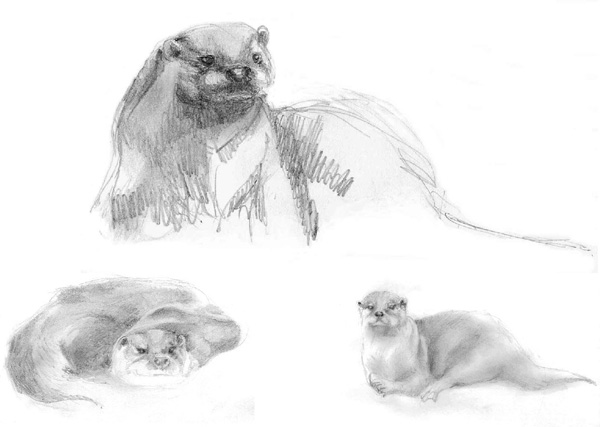 I'm still reading Otter Country by Miriam Darlington – and loving it!  Early in the book she writes that after reading Henry Williamson's  Tarka the Otter she was so enthralled and spell-bound by otters, that 'for months afterwards I felt like I was an otter'.
It was so exciting to read this, as it is exactly how I felt when immersing myself in all things otter when I was carving a sculpture of one.  I read about otters, studied their behaviour and dreamed of them.  Initially I made many sketches, to try and get to know their shape and character – to get a feel of what was important to capture in my carving.
For many years I wanted to sculpt an otter.  Whilst on holiday in Skye I visited an exhibition by the sculptor Laurence Broderick (it was in the very early days of my affair with stone) and watched him working on a turtle in serpentine.  There were otter sculptures too.  I was in awe – they were so very beautiful.  I feared I might not ever make an otter so well, and aspired to his skill.   It would be a full six years before I created my own otter.
So, when finally I had chosen my stone – it was a lump of Polyphant (Cornish Soapstone), which I felt perfect for the sheen of wet otter fur – I was alone in my workshop, chisel in hand and brimming with feelings of otter.
I turned into one.  Over the weeks of carving, I felt myself to be an otter, moving around in an otter-like way, being aware of whiskers,  adopting poses, attempting the alertness.  I felt as if I could swim, twist, turn and dart in the water, exerting otter muscles in chase of prey.  I smelled otter.  And breathed as one.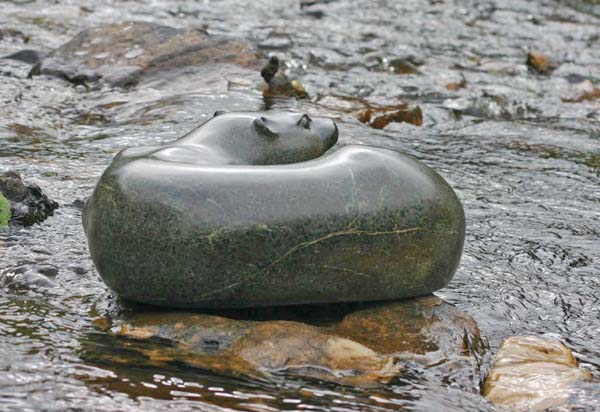 I remember taking this photograph – I felt my otter should be in water, so I waded out to a stone mid-stream, the water came over the top of my wellies and as I crouched to take the picture I sat in the water too  – and felt most unlike an otter!