Smoke Signals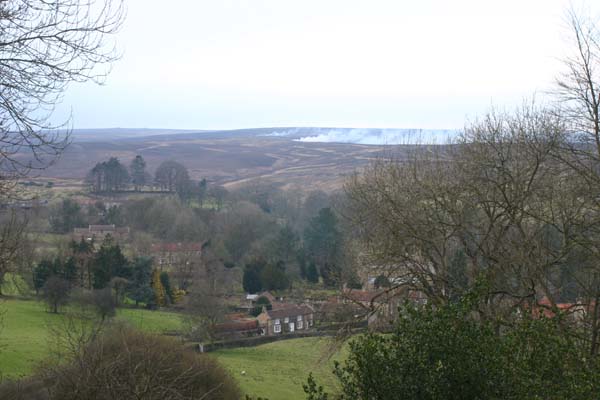 It is a familiar sight at this time of year, billowing smoke on the horizon.  I remember as a child playing camp and sending smoke signals back to the house with and old blanket waved over a makeshift wood fire.  I hoped the smoke would be seen from far away,  and my magic messages understood by whoever might pick them up.  I kept a lookout for return signals.
This is a view of Lastingham taken from the top of Lidsty Hill, which leads out of the village, giving a good view out over Spaunton Moor.  They're busy here heather burning.  Sometimes, if the wind blows this way, you can smell the scorching before seeing the smoke.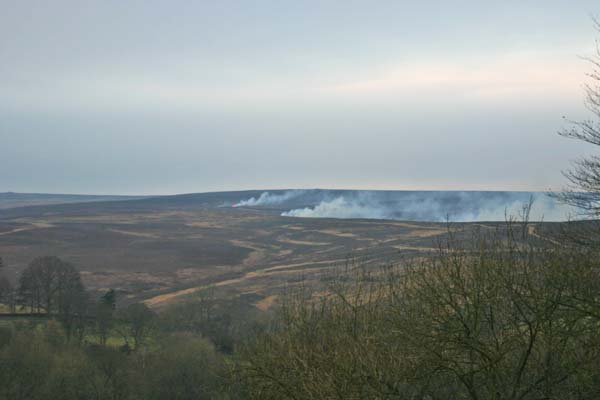 It worries me – at a time when all the birds seem eager and interested in nest-making and there are stirrings of Spring – it seems such a savage thing to be doing.  I think about all the insects that live in the heather, those sheltering and those that burrow beneath its roots in the peaty soil.
Of course the burn is highly organised, sections are done in rotation – giving a patchwork effect over the moor.  A mosaic of different aged heather.  There is a 'burning season' – between sunrise and sunset from 1st October to 15th April.  This controlled burning apparently keeps the heather young and vigorous – if left it eventually grows long and lank reducing its nutritional value.  It is all about managing the conditions for sheep and grouse on this moor.
It leaves initially a brutal black landscape, unearthly, pungent.
I brought one or two twisty charcoal stems home.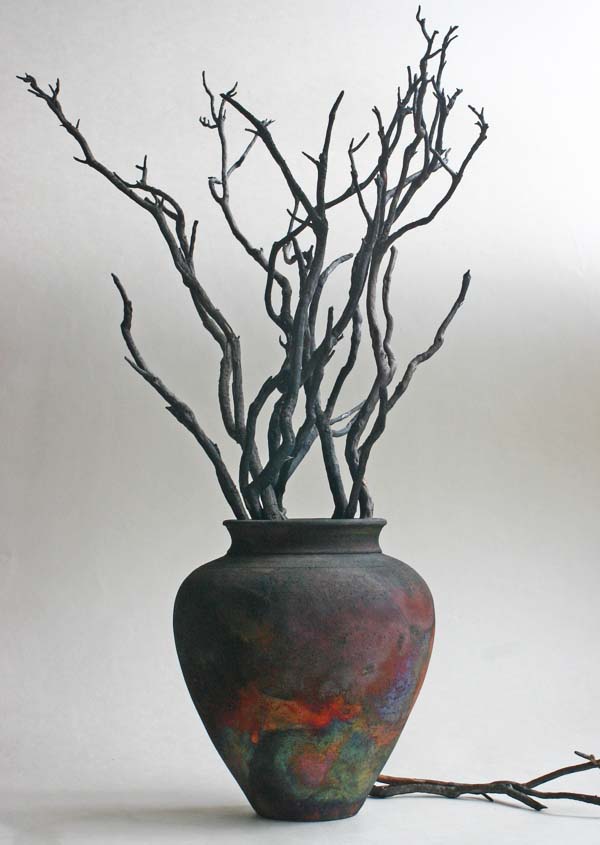 I remember reading a few years ago about an artist who drew with the charcoal made from the burned heather stems, images of the horror of an uncontrolled fire on the North York Moors nearer the coast. This was in the height of the hot weather, everything was dry and a spark set the moor alight.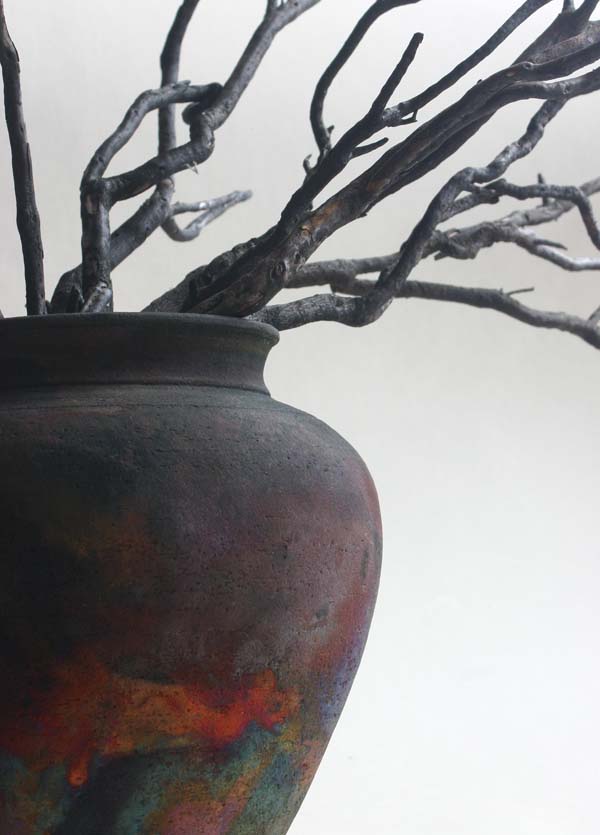 Heather is tough stuff – these controlled and scheduled burns are not supposed to go deep or long enough to affect the root systems of the plant and seem to 'shock' the seeds lying in ground  into germinating quickly.
I found pieces of weathered stem, perhaps from a previous year's burn.  One piece is twisted and contorted, you can see the hardy fibres telling the persistence of its growth in the harsh moorland conditions. Immediately I'm seeing shapes and making images out of the swirls, just as I did with the smoke plumes I sent from my camp fire.