Open Studio – planning your route
In the North Yorkshire Open Studios brochure, my workshop comes under the Moors and Coast area – I'm number 94 on the map.  I like maps and enjoy seeing where I have been and organising trips.  I've drawn a little map here for you,  to include my workshop and artist's studios nearby, which makes a lovely circular route which is easy to follow and visits lots of studios.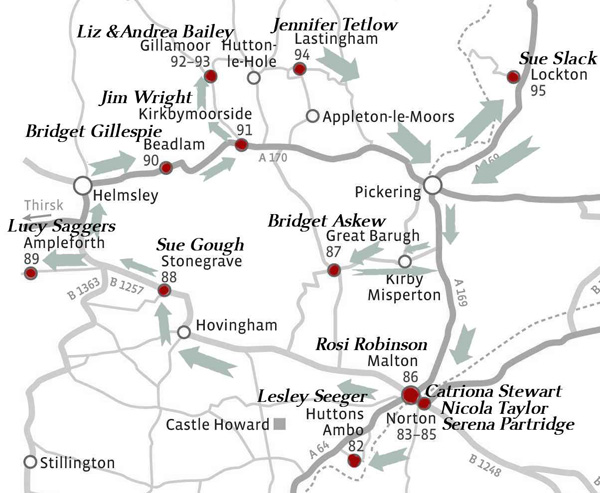 (if you haven't got a brochure and would like one, you can get one at the North Yorkshire Open Studios website)
Here are details of the artists on the route
Jennifer Tetlow – Stone Sculptor
Sue Slack – Painter
Bridget Askew – Painter
Rosi Robinson – Painter
Catriona Stewart – Painter
Nicola Taylor – Fine Art Photographer
Serena Partridge – Small scale, hand-stitched accessories and garments
Lesley Seeger – Painter
Sue Gough – Painter
Lucy Saggers – Photographer
Bridget Gillespie – Botanical Illustrator
Jim Wright – Painter
Elisabeth Bailey – Potter
Andrea Bailey – Painter
You arrive back near me, so you could pop in for another look, or to hear my Viola music again.  You can go the other way round if you like!   Hope it is a help, Happy Open Studio.. ing!