Little Owl Sculpture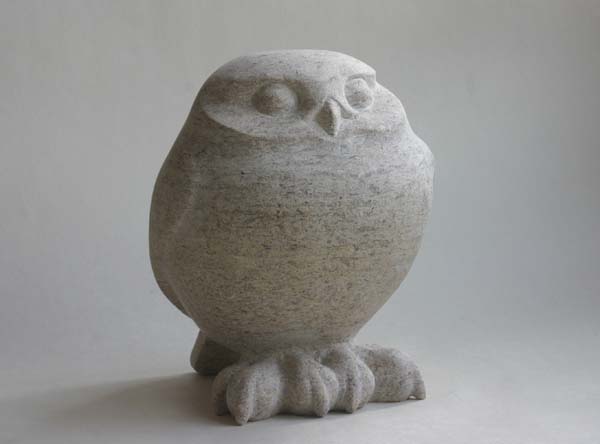 This is the first time I've carved Ancaster Weatherbed stone.  This piece was so beautifully flecked grey and brown that I thought it perfect to suggest the feather colouring of a Little Owl.
I've  worked Ancaster limestone before, but that was the stone the quarry describes as Hard White. Within the beds (the layers and strata of stone formation) there are differences in the stone colour and quality.  The Hard White is actually a softer stone than the Weatherbed – just to confuse things.
Because it is denser and harder, the Weatherbed will polish, and I'm wondering whether I take my Little Owl a few stages further to get a finish.  Polishing does bring out more the colours and markings within the stone – and this is enticing.  Probably not evident from the pictures here, but showed up a lot when the stone was wet, are the difference in the texture of the stone.  At the top of the owl's head, the speckles are quite fine, but they got larger, rounder and more colourful as I worked down towards the feet, which almost give the appearance of translucent cork.  These are all within the stone, the surface is smooth – it is like looking into the depths of the stone's formation, so very far back.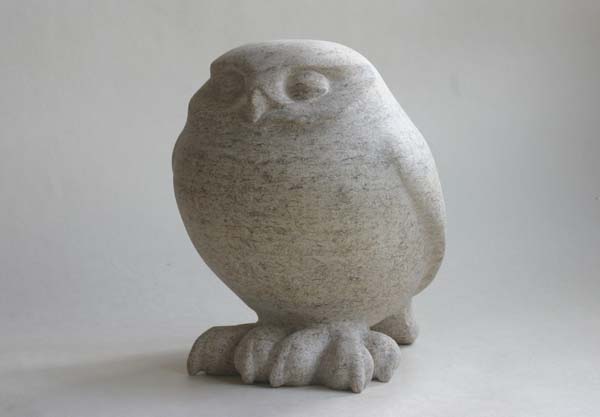 I have another piece of this Weatherbed, different in character and more evenly and finely marked – which is an opportunity to get to know it and its mysteries better.
Little Owl sculpture will be one of the pieces shown at the White Fox Gallery in May.