The Year in Books – March 2015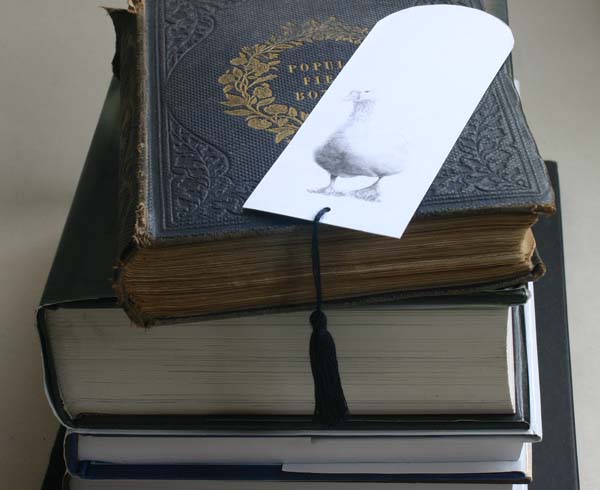 I've gone and got really organised for my The Year in Books, and made some bookmarks.  Just simple ones that were easy to do – I printed some sketches I made of my geese onto thick card and then cut to shape.  I think the tassels make them look rather smart – these were made by winding some silk thread round card (an off-cut from the bookmark shaping), making a few loops and tying some knots, and then a bit of trimming.
I've begun to really look forward to my reading – a little each night.  Do you have a favourite reading time and place?  I tend to read in bed.  It has taken a little adjusting to get the right set-up of pillows and postures – to begin with my arms were aching (and got cold) and I found if I 'dropped off' whilst reading, the book fell on my face!  All these things I'm fine-tuning for optimum comfort and I now quickly get settled.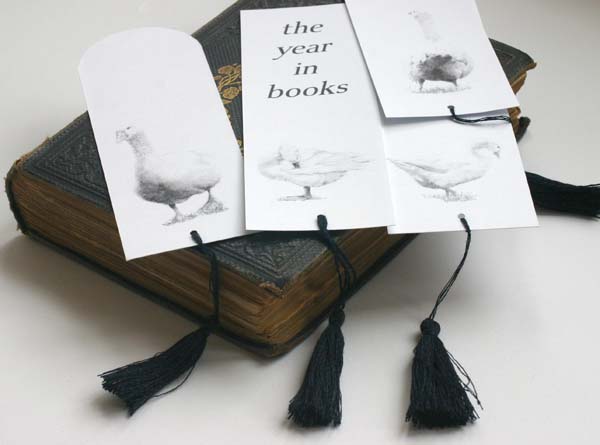 In February I read We are all Completely Beside Ourselves by Karen Joy Fowler.  Actually I struggled throughout the first half of the book, not sure why really, it just seemed rather lumpy and I kept having to go back and re-read sentences to check I'd made sense of things.  Some of the 'Americanisms' and references to things I know nothing about, added to the lumps.  However, it seemed to smooth out and I began to really enjoy it.  I might not have persisted had it not been for watching a film some while ago, about Project Nim, which affected and traumatised me for some time after.
This book too has plenty despair.  It is an incredible story, about a very interesting subject and I'm glad I read it.  Also, I have to admit  to feeling moments of recognition in terms of family dynamics, how behavours are interpreted and managed and how we navigate truths told, or untold.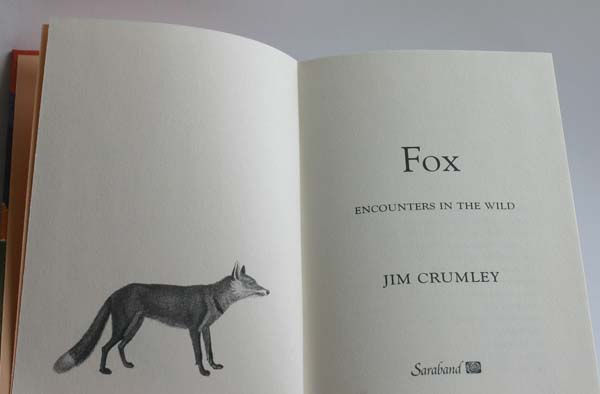 I also read Fox by Jim Crumley, part of his Encounters in the Wild series.  I ordered this book straight after reading his Barn Owl – Encounters in the Wild last month and loving it.  I like these little hardback books, they're nicely bound and the page layout is lovely.  These things give such a special feel to a book I think.  It was a real surprise when the publisher Saraband tweeted about my blog post last month, and I was especially touched when Jim Crumley himself emailed me to say how glad he was I'd enjoyed his book.  He was just disappearing off to a book fair – so I hope it went well Jim!
So, about the Fox – each chapter clearly recounts the time and experience of meeting a fox.  I am grateful for the descriptions of the whole scene, all of the nature into which the fox makes an appearance and trots out of.  It makes the book valuable for getting to know and understand this animal.  I learned new words – thole, glaur, whins, denouement.  I learned lots.  It made me feel as if I were there seeing too, I wanted to turn to Jim and ask questions, but knew I needed to be still and quiet and hoped my inexperience didn't disturb and mess up the watch.
I will ask though, as the book does, why we continue to persecute rather than protect the fox?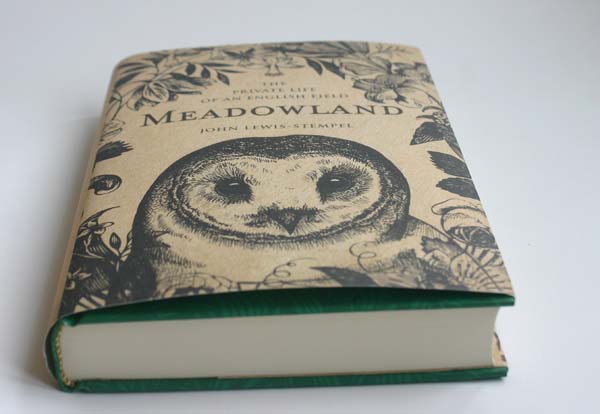 My book for March is Meadowland by John Lewis-Stempel.
The Year in Books is an ongoing project started by Circle of Pine Trees which is open to everyone.  The aim of the project is to read (at least) a book a month during 2015. You can join in at any time, full details here.
#theyearinbooks